Right Track Auto Credit

Worried about your credit? We can help. At Right Track credit center, all we do is help people get into the vehicles they want, the right way. Our process is simple: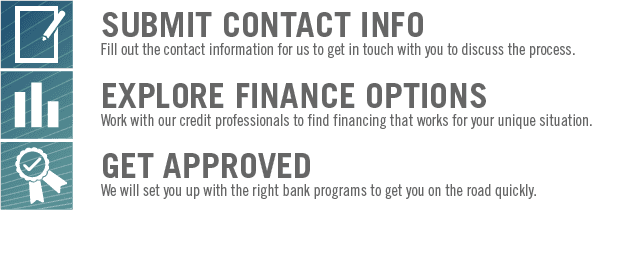 FACT VS. FICTION
The truth about car buying.
FACT 
 Buying a car is an important step to get back on the Right Track to improve your credit. A good credit score is important and something everyone needs.
 We'd like to help you get a new car, but whether you buy from us or not, we want you to be informed.
 Many dealerships will try to keep information from you, we will take the time to explain all your options, not talk down to you
FICTION
  Because of your situation, your car options are extremely limited. You would be surprised by what your selection may be.
 You are pre-approved. You'll get a lot of mail that says you are, but you are not pre-approved until your information has been submitted to a bank.
 Your situation is out of control. We have programs that allow your rate to decrease as you make payments, as you get back on track, your interest rate decreases.
FAQ
Can I get a car loan while filing for bankruptcy?
A) Yes, getting a car loan during a bankruptcy is actually an important step towards rebuilding your credit. We realize that filing for bankruptcy isn't the best experience, we want to help you get back on the Right Track.
Do you need to have good credit to get a car loan?
A) No. At Right Track Auto Finance, all we do is help people in sticky credit situations get into a car with a great APR. You would be surprised at your options even if your credit is less than ideal.
How do I apply for Right Track credit auto financing?
A) You can apply on online with your financial information, or come in for a free consultation. Fill out the form above to schedule an appointment with our Credit Director, Matt Richards. Click the button to the right to go to our finance application and get the process started before you even come to the dealership!
What will my vehicle selection look like based on my credit situation?
A) Many people believe their vehicle selection will be extremely limited because of a less than ideal credit situation. In our experience, this is generally untrue. We have years of experience getting people into cars they didn't think they could qualify for.
I feel like I'll be stuck with a high interest rate, even if I am qualified, what are my options?
A) Part of getting back on the Right Track, is getting back in control of your life. That exactly what we want to do, put you in control. With our credit programs, you can improve your interest rate. As you make car payments, your interest rate will actually go down!